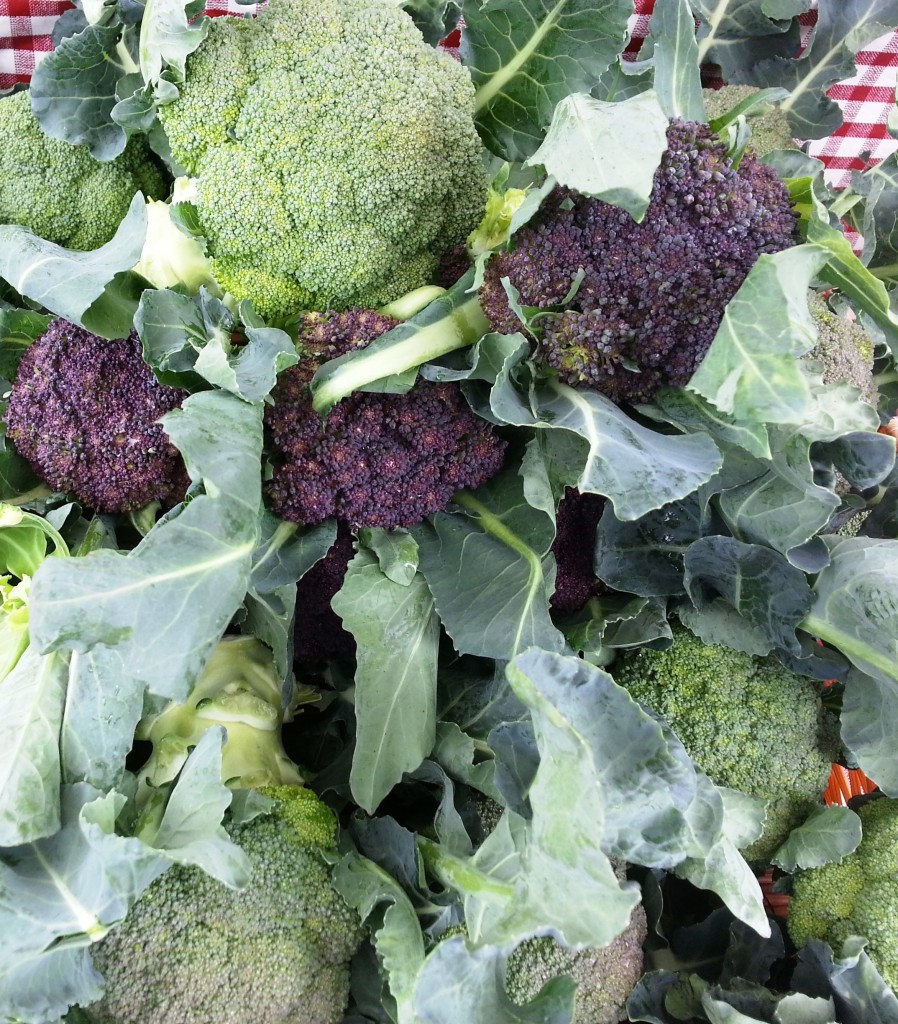 I've always loved broccoli, even as a child.  It's so tasty stir-fried with lots of garlic.  Black Bottle in Seattle makes an amazing blasted broccoli which I have yet to re-create.  It's so good that I would go there simply for that dish.  Our CSA members love it too.  See below for a link to the recipe.
When asked, CSA members and friends most often said that their favorite way to eat broccoli is roasted.  Here's a tip from my friend Carolyn: Cut into big bite size chunks. Toss with a little olive oil, salt, pepper, garlic powder and paprika. Bake for 20 minutes at 500 degrees- turning once. Very yummy!
Here are some of the other responses:
I love broccoli salad with bacon, water chestnuts and sultanas. Such a treat! Most often, I roast broccoli with garlic, olive oil and s&p and toss it with some balsamic vinegar before serving.
Plain old steamed broccoli.
I would roast/pan fry it and splash some sesame oil, salt and pepper.
I like to eat it raw with a little hummus to dip.

 

Broccoli salad! We make a huge batch and eat it for days. That and "Blasted Broccoli." 
During summer, I seem to grill a lot of my food… so for broccoli, I would cut it into tiny pieces and in a bowl, mix it with olive oil, salt, pepper and sesame oil, then put it in a grill skillet and on the grill.
I also love broccoli fritters.  Actually, I love anything that can be made to resemble a pancake.  And of course, there's the old standby: cream of broccoli soup.
Broccoli Parmesan Fritters (recipe from Smitten Kitchen)
3 cups fresh broccoli, chopped
1 large egg
1/2 cup all-purpose flour
1/3 cup finely grated parmesan cheese
1 small clove garlic, minced
Salt & pepper
Pinch of red pepper flakes
Olive or vegetable oil for frying
Prepare your broccoli: Separate the florets from the biggest stem(s). Cut into 1-inch chunks. Optional: peel the stems and then slice into 1/2-inch lengths.
Steam broccoli until tender but not mushy, 5 to 6 minutes. Drain the broccoli, then set it aside to cool slightly.
In a large bowl, lightly beat the egg. Add the flour, cheese, garlic, salt and pepper. Then, add the somewhat cooled broccoli and, using a potato masher, mash the broccoli just a bit. The bits should be recognizable, but small enough (1/4- to 1/2-inch chunks) to press a mound of the batter into a fritter in the pan. Once mashed a bit, stir or fold the ingredients together the rest of the way with a spoon. Season with salt, pepper, and red pepper flakes to taste.
Heat a large, heavy skillet over moderate heat. Once hot, add about 2 to 3 tbsp oil.  Scoop a two tablespoon-size mound of the batter and drop it into the pan, then flatten it slightly. Repeat with additional batter, leaving a couple inches between each. Cook 2 to 3 minutes until brown then flip each fritter and cook on the other side until equally golden, another 1 to 2 minutes.
Transfer briefly to paper towels to drain, then eat immediately. Or keep warm on a baking sheet in a 200F degree oven.
Try these toppings:
 Sour cream or plain yogurt
Feta cheese
Fried egg
*             *             *
Cream of Broccoli Soup
3/4 cup chopped onion
1 carrot, sliced thin
2 tsp mustard seeds
2 tbsp oil or unsalted butter
3-4 cups chopped broccoli
2 cups broth (chicken or veg)
1 cup water
1 1/2 tsp fresh lemon juice, or to taste
1/4 cup sour cream, cream or milk
Grated cheddar or parmesan cheese (optional)
In a heavy saucepan cook the onion, the carrot, the mustard seeds, and salt and pepper to taste in the oil/butter over moderate heat, stirring, until the onion is soft, add the broccoli, the broth, and the water, and simmer the mixture, covered, for 15 to 20 minutes, or until the broccoli is very tender.
In a blender purée the soup in batches until it is smooth, transferring it as it is puréed to another heavy saucepan. Whisk in the lemon juice and salt and pepper to taste, heat the soup over moderately low heat, and whisk in the sour cream (do not let the soup boil).
Serve with grated cheese, if using.