Napa, savoy, purple and green…cabbage is a mainstay of our season.  Each variety, with its unique characteristics, lends itself to many different preparations from coleslaw to casseroles.  To quote from our CSA member, Aaron, "Cabbage… How do I love thee, let me count the ways."  We couldn't agree more.  One of our favorites is savoy – so sweet and luscious.  It's a little less hearty than the green or purple varieties but stands up a fair amount of cooking and has great texture for eating raw.
Aaron gave us this list of his favorite ways to prepare cabbage:
1) Green cabbage fried in peanut oil in a VERY hot wok with a dash of fish sauce. Perfection.
2) Napa cabbage layered with spices and raw squid for a hearty and delicious kim chi.
3) Purple Cabbage shredded on the kraut slicer and left for 2 weeks with just enough salt to produce a rich sauerkraut.
4) Savoy cabbage shredded and dry fried with diced apple, raisins, caraway and a touch of vinegar.
5) All of the above shredded and served raw under my favorite fried foods to lighten and brighten the meal.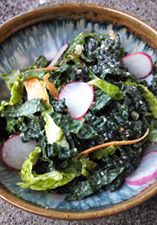 Others said:
Last night we made a yummy coleslaw with your savoy cabbage. Loved the mildness and great texture!
Sauerkraut!!

Summertime slaw: 

savoy, lacinato kale, radish, carrot, and with a tahini miso dressing. Mmm.
A couple of our favorite recipes are creamy coleslaw and cabbage & potato casserole.
Creamy Coleslaw
1 med head or 1/2 large head cabbage, core removed and thinly sliced
1 bunch green onions, thinly sliced
1 cup grated carrots
1-2 tbsp chopped dill
2 tbsp sugar or honey
2 tbsp cider vinegar
½ cup sour cream or mayonnaise
Salt and pepper
Combine cabbage, onions, and carrots in a large bowl.  Season with salt and pepper.
Whisk together dill, sugar, vinegar, and sour cream. Pour over cabbage mixture and toss to coat.
Try:
A variety of cabbages for different colors and textures.
Add 1 cup of sliced snow or snap peas
*                    *                    *                    *                    *
Cabbage and Potato Casserole
1 to 2 Tbsp butter
2 oz. bacon or pancetta chopped or 4 oz. bulk or country sausage (optional)
1 head cabbage
1/2 lb. potatoes, about 2 cups
1/2 cup heavy cream, half-and-half, or broth
1 tsp coarse grain or country mustard
1/2 cup freshly shredded melting cheese such as Gruyère, Swiss, or Gouda
Salt & pepper
Preheat oven to 375°F. Melt butter in a large oven-proof frying pan or stove-proof baking dish over medium heat. Add pancetta, bacon, or sausage, if using, and cook, stirring occasionally, until meat is cooked through and browned.
Meanwhile, remove and discard first layer or two of cabbage leaves. Cut cabbage in half lengthwise, remove and discard core, and chop.
Add cabbage to pan and cook, stirring occasionally, until leaves are wilted, about 5 minutes.
Meanwhile, peel and chop potatoes into small bite-size pieces. Add to pan.
Combine cream or broth and mustard.  Season with salt and pepper. Add to pan and stir to combine. Sprinkle mixture with cheese, cover, and bake 15 minutes.
Uncover and cook until bubbling and browned, about 10 more minutes.