There are always so many mixed feelings when we arrive at the last week of our CSA season.  First, it's "Whew, we made it!" followed by "how can it be over already?" It's always sad when we eat our last cucumber and tomato but I'm not gonna lie, we're ready for the break.
However, there's something a lot more final about this week than our past seasons.  For next season we've decided to focus mainly on our animals: increasing our flock of laying hens and (finally) starting up the beef herd.  In order to do this we have to let go of something, and that big something happens to be all of the beautiful produce that we have grown for our dear CSA members, farmers markets and wholesale customers.  We have come to realize that growing vegetables is H-A-R-D and more time consuming than we could have possibly imagined.  It doesn't seem intuitive but working with animals provides a set routine; it's a kind of predictability that you just don't get when you grow upwards of 100 varieties of produce on five acres.
So, with this being our final final CSA week, we're overfilling the boxes to thank you for trusting us to fill your belly this season, and over the past four years.  It's been a wild ride, to say the least.  This week, we've included several items that can be stored for a few weeks.  Spoiler alert: yes, there's a pumpkin in the box!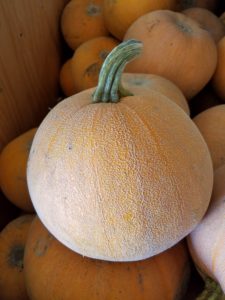 Week 16 CSA Box
Beans
Beets
Carrots
Celery
Red onions
Peppers
Potatoes
Romanesco
Tomatoes
Winter luxury pumpkin
Large boxes add:
Broccoli
Fennel
Extra: Peppers, potatoes, tomatoes
Click here for recipes on our website.
Thanks for a terrific season!