Our season is winding down.  Last Friday was the last day of the Phinney Farmers Market and this is the second-to-last week of our CSA (already!). Though it's not quite over yet, it seems appropriate to thank all of our CSA members for joining us this season.  Every year we have successes and failures; we try new things and we do our best to gauge what our members will enjoy.  As part of our CSA, you're along for the ride and honestly, there's no better way to support a local farm than to put your faith and money into the farmer's hands with the understanding that each week will bring the best bites of the season.  That kind of trust provides fuel for our work.
On our end, sometimes creating a balanced box is a challenge due to factors beyond our control (like weather). But it keeps us honest and ensures that we never take anything for granted.  This summer was cooler and wetter than the past few.  Was that better or worse?  It certainly made the fieldwork a lot more pleasant but also meant that our tomatoes were slow to ripen and it felt like the summer produce was never going to arrive.  And yet, when the plants were ready, we couldn't have been more excited to devour and share every tasty tidbit with you.
This week is summer's last hurrah with summer squash and zucchini paired with the first of our winter squash.  I'm trying not to be sad about saying goodbye to cucumbers and tomatoes.  We knew this day was coming.  It's time to embrace the hearty soups, stews, and pumpkin-everything.  Pumpkin pie, pumpkin bread, pumpkin chili, pumpkin soup, pumpkin cheesecake, pumpkin curry…yep, it's on!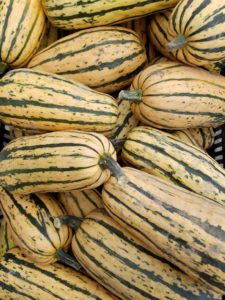 Week 15 CSA Box
Beans
Savoy Cabbage
Delicata Squash
Lettuce
Cipollini Onions
Peppers
Summer Squash
Tomatoes
Zucchini
Large boxes add:
Eggplant
Extra: Delicata squash, onion, peppers, tomatoes
Click here for recipes on our website.