I hope you had a fun 4th!  As I write this, the fireworks are still going off around us.  Perhaps some of our produce made it onto your 4th of July menu?
Before we started farming, I gave little thought to how the food I ate made it from the fields to the store or farmers market.  As inconvenient as it is, vegetables don't grow on a schedule and animals need to be fed and cared for 7 days a week, holidays included.  We eat 365 days per year so it only makes sense that our food is grown, cultivated, harvested and delivered 365 days per year.  I don't know why it took becoming a farmer to figure that one out!  When you join a CSA, I think you become more aware of the work that your farmer does to fill those boxes each week.  We like to think that one of the reasons you join a CSA is because you understand the bigger picture of farming in addition to appreciating the seasonality of your food.
That being said, here's what's coming up this week.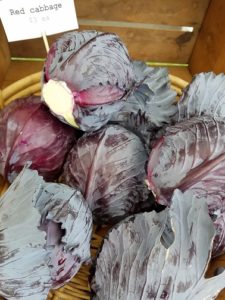 Week 2 CSA box: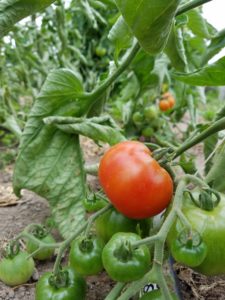 Beets
Broccoli
Cauliflower
Chard
Purple Cabbage
Snap Peas
Large boxes add:
Tomatoes or Peppers
Summer squash
You know the saying "knee-high by the fourth of July" referring to the height of corn plants?  Well, for the second year in a row pests have had other ideas.  Whether it's birds or some unseen pest eating the seeds before they germinate, we can only speculate.  What we do know is that our corn planting is floundering.
The good news is that our tomatoes are just starting to ripen and we're putting the first few in large CSA boxes this week.  We sampled the first pint of gold cherry tomatoes this past week and they didn't disappoint!
If you still have cabbage left over from last week, perhaps this recipe will help you use it up:
Warm Cabbage Salad
3 bacon slices
1 tablespoon peeled chopped shallot (about 1 small)
2 cups apple cider
1/4 teaspoon salt
1/4 teaspoon black pepper
1 1/2 ounces Roquefort or other blue cheese, crumbled (about 1/3 cup)
8 cups shredded cabbage
1/2 cup diced red bell pepper
Cook bacon until crisp. Remove bacon from pan, reserving 1 teaspoon drippings in pan. Crumble bacon; set aside.
Heat bacon drippings over medium-high heat. Add shallot, and sauté 1 minute. Remove from heat.
Bring apple cider to a boil in a small saucepan over medium heat; cook until reduced to 1/4 cup (about 15 minutes). Remove from heat. Add shallot mixture, salt, and pepper. Place cider mixture and cheese in a blender or small food processor; process until smooth.
Combine cabbage and bell pepper in a large bowl; drizzle cider mixture over cabbage mixture, tossing well to coat. Top with crumbled bacon. Serve immediately.
Click here for more recipes.