Everything for sale in our webstore was grown or produced by Skylight Farms.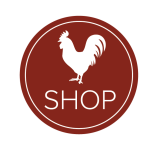 What's available?  At different times during the season you can find:
Produce harvested at the peak of the season for the best flavor.
Fresh Harvest boxes – filled with seasonal produce. Each box contains 5-7 items. Box contents vary throughout to the season.
Juicing boxes – filled with approximately 20lbs of "seconds", produce that is not marketable for aesthetic reasons but is still delicious and nutritious.
Eggs laid by our pasture-raised hens.
Raw honey.
Bulk quantities of produce for canning and preserving such as tomatoes, pickling cucumbers, cabbage, and beets.  Items vary throughout the season.
If you want to know what's in our webstore each week, sign up here.
Orders from our webstore can be picked up at Essential Baking in Wallingford, Vertical World Seattle, Seattle Bouldering Project, Valve Corporation, and Skylight Farms.