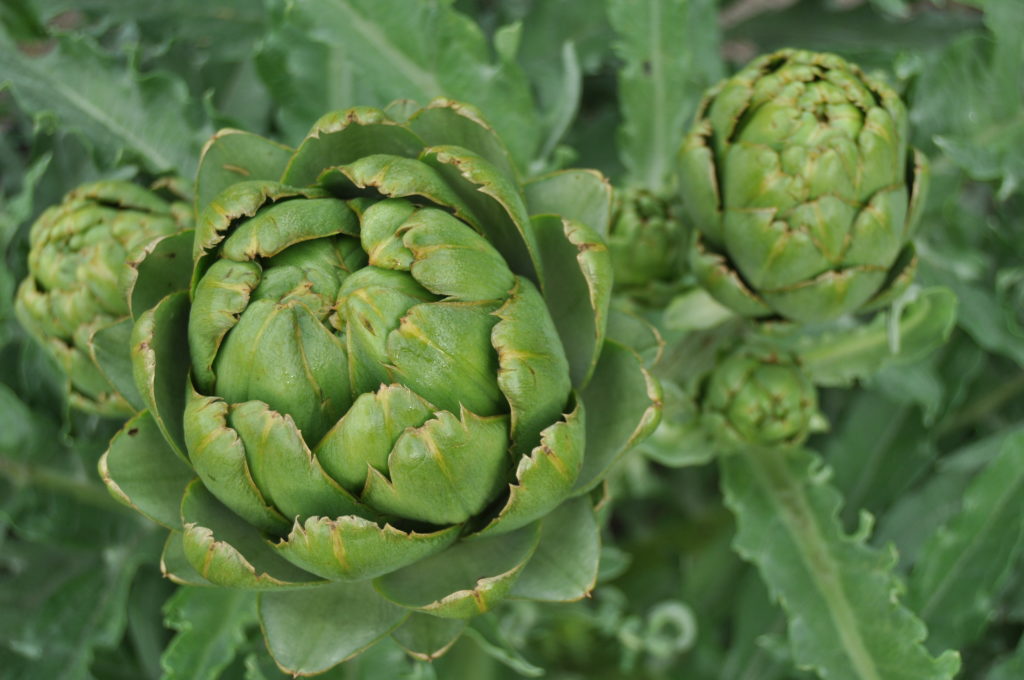 Artichoke Basics
(From the California Artichoke Advisory Board)
Wash under cold, running water. Pull off lower petals and cut off stems. Alternately, trim the bottom of the stem to viable portion, peel and retain on the artichoke. Slice off top quarter and trim petal tips, if desired. Dip in acidified water to preserve color.
Boil: Plunge into boiling, salted water. Pull off lower petals and cut off stems. (Add 1 ounce lemon juice per quart, small amount of olive oil and fresh herbs, to taste.) Return to boil; reduce heat and simmer 25 to 40 minutes, depending on size, or until petals near center pulls out easily. Invert to drain
Steam: Place on rack over 1½ inches boiling water. Sprinkle generously and salt. Cover and cook 25 to 40 minutes. Test for doneness as above.
Optional: The trimmed artichoke stems are edible. Cut brown end about ½-inch. Peel fibrous outer layer to reach tender green of stem. Stem may be steamed whole with the artichoke. Cut into rounds or julienne for salads or pastas.
---
Spinach Artichoke Deviled Eggs
6 hard boiled eggs
1/4 cup nonfat Greek yogurt
1 tbsp light mayonnaise
1/2 cup spinach, chopped
1/3 cup artichoke hearts, chopped
¼ tsp onion powder
¼ tsp garlic powder
¼ tsp dried parsley
Salt & pepper
2 tbsp grated parmesan cheese
Paprika for dusting
Split hard boiled eggs length wise and scoop the yolks out into a medium mixing bowl.
Add Greek yogurt and mayonnaise to egg yolks and mash with a fork until well combined. Beat in spinach, artichoke hearts, and seasonings.  Season with salt and pepper.
Use a piping bag, extra small cookie scoop or spoon to transfer egg yolk mixture evenly between the egg whites (you may have some extra left over).
Top each egg with a pinch of grated parmesan then sprinkle lightly with paprika.


---

Baked Artichokes and Potatoes

Use a clay pot if you have one.  If not, then an enameled cast-iron or covered ceramic baking dish will work too.

½ ounce dried wild mushrooms (such as trumpet or porcini)
2 large artichokes
Juice of 1 large lemon
1 ½ lbs potatoes, cut into ¾ inch slices
1 head of garlic, cloves separated but not peeled
2 bay leaves
2 tsp minced rosemary
2-3 tbsp olive oil
Salt & pepper

Preheat oven to 350F. Mix lemon juice with water in a medium sized bowl.
Cover the mushrooms with ½ cup boiling water and set aside to soak. Trim artichokes, cut them lengthwise into sixths, remove the chokes, and drop the wedges into the lemon water.
Remove the mushrooms from the water, rinse off any grit, then squeeze them dry. Cut into bite-size pieces.  Strain the soaking water.
Put the artichokes, potatoes, garlic cloves, and mushrooms into a baking dish. Season with salt and pepper, add bay leaves and rosemary. Drizzle with oil and toss to coat.  Add mushroom water.
Cover and bake for 1 hour, turning once or twice while cooking. When eating, squeeze out the roasted garlic and spread it on the potatoes.