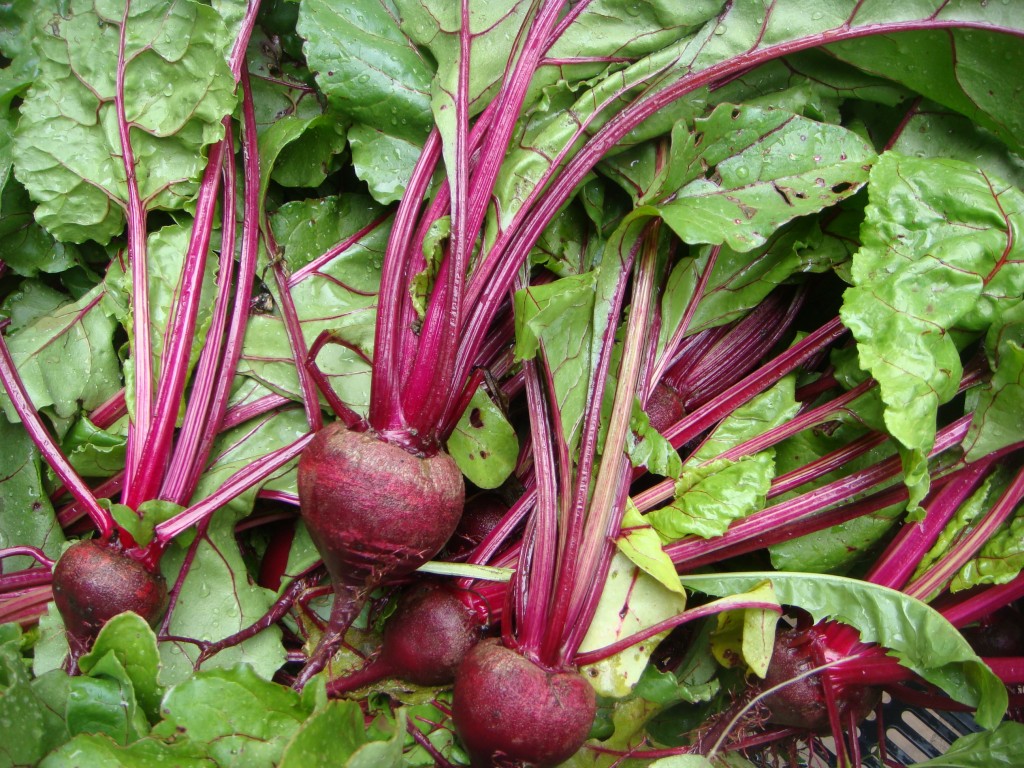 Love them or hate them, we find that most people are fairly opinionated about beets.  We're in the beet-loving group and love the vibrant hues and sweet earthiness.  Don't throw away the greens!  Beet greens taste a lot like chard and are an excellent source of potassium, folic acid, and magnesium.
31 Ways to Cook and Eat Beets (Bon Appetit)
Cooking with Beets (Cooking Light)
Best Beet Recipes (Eating Well)
Scroll down for the following recipes:
Beet Chips
Beet Quesadillas
Roasted Beets with Wilted Beet Greens
Beet Chips
1 bunch beets, peeled
2 tbsp olive oil
Sea salt
Freshly cracked black pepper
Preheat oven to 350°. Line several baking sheets with parchment paper.
Using a mandolin or knife, thinly slice beets to a thickness of 1/16″. In a large bowl, toss beet slices with oil to coat evenly.
On prepared baking sheets, in a single layer, arrange as many slices as will fit without crowding. Bake until crisp, 25-30 minutes, rotating pans once halfway through baking. Cool chips and blot with paper towels to remove any excess oil. Repeat, using a cool prepared baking sheet for each batch, until all beet slices are baked.
Toss chips with 1/4 teaspoon salt and pepper to taste.
---
Beet Quesadillas
2 beets, thinly sliced
1 med onion, thinly sliced
1 bunch beet greens of chard, chopped finely
2 tbsp veg oil
2 tsp chili powder
1 tsp cumin
1 tsp dried oregano
1 tsp salt
4 tbsp water
Tortillas
2 cups Monterey Jack cheese
Heat oil in skillet. Sauté onion and beets (6 min), add greens and spices, water, and stir.
Cover and cook 2-3 min until veggies are soft. Transfer to bowl.  Wipe out skillet.
Layer tortilla, filling, cheese, and top with tortilla.
Cook 1-2 minutes each side.
---
Roasted Beets with Wilted Beet Greens
3 medium beets with beet greens attached
1 garlic clove, minced
1 tbsp red wine vinegar
Extra-virgin olive oil
Preheat oven to 400°F.
Trim greens from beets. Cut off and discard stems. Coarsely chop leaves and reserve.
Wrap each beet in foil. Place beets in a baking dish and roast until tender when pierced with fork, about 1 hour. Cool. Peel beets, then cut each into 8 wedges. Place beets in medium bowl.
Heat a large saute pan over med-high heat. Add some olive oil and then the beet greens and garlic.  Drizzle vinegar over greens.  Stir until the greens are wilted, just a few minutes. Season with salt and pepper
Serve beet greens with slices of roasted beet on top.
Try any of these additions:
Orange segments, goat cheese or feta, pistachios
Cook the beet greens with some bacon or pancetta
Saute an onion along with the beet greens
Top off the dish with a chopped up boiled egg