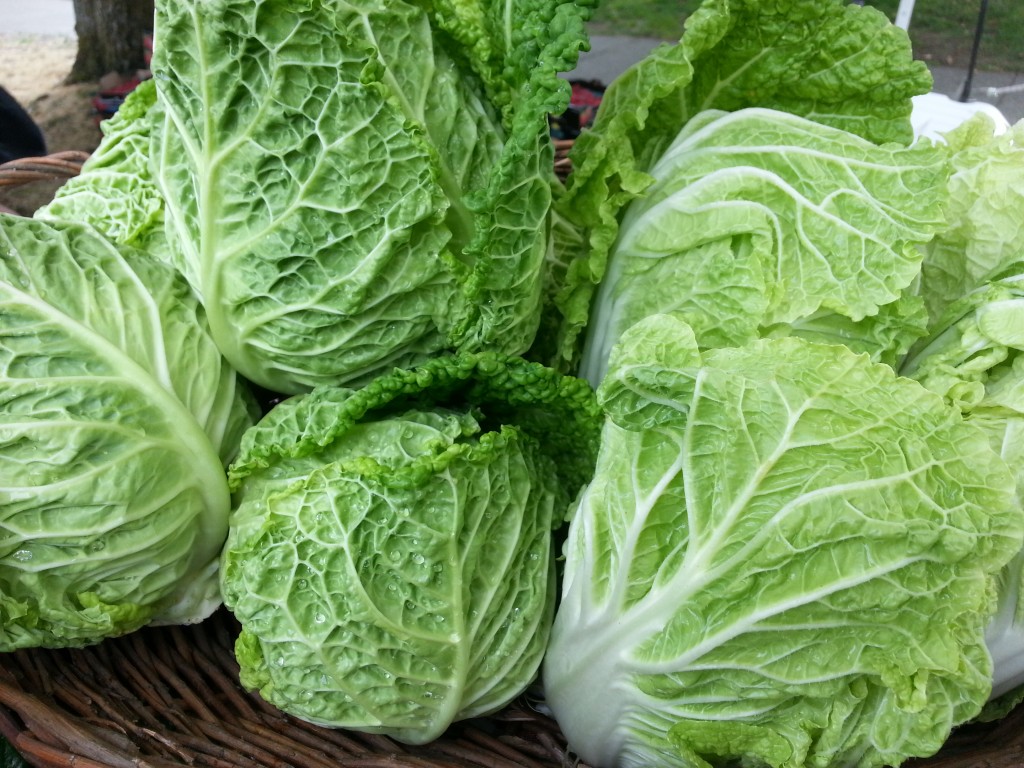 Green, purple, savoy, napa – we love all the cabbages but we know that sometimes it's a challenge to use them up.  A few of our favorite recipes:
Warm Cabbage Salad
Cabbage and Potato Casserole
Napa Cabbage Salad
Simmered Cabbage and Apples
20 Recipes Where Cabbage is King
Cabbage and Chickpeas with Mustard Seeds and Yogurt
Stir-fried cabbage in peanut sauce
Cabbage recipes, New York Times
Warm Cabbage Salad
3 bacon slices
1 tablespoon peeled chopped shallot (about 1 small)
2 cups apple cider
1/4 teaspoon salt
1/4 teaspoon black pepper
1 1/2 ounces Roquefort or other blue cheese, crumbled (about 1/3 cup)
8 cups shredded cabbage
1/2 cup diced red bell pepper
Cook bacon until crisp. Remove bacon from pan, reserving 1 teaspoon drippings in pan. Crumble bacon; set aside.
Heat bacon drippings over medium-high heat. Add shallot, and sauté 1 minute. Remove from heat.
Bring apple cider to a boil in a small saucepan over medium heat; cook until reduced to 1/4 cup (about 15 minutes). Remove from heat. Add shallot mixture, salt, and pepper. Place cider mixture and cheese in a blender or small food processor; process until smooth.
Combine cabbage and bell pepper in a large bowl; drizzle cider mixture over cabbage mixture, tossing well to coat. Top with crumbled bacon. Serve immediately.
---
Cabbage and Potato Casserole
1 to 2 Tbsp butter
2 oz. bacon or pancetta chopped or 4 oz. bulk or country sausage (optional)
1 head cabbage
1/2 lb. potatoes, about 2 cups
1/2 cup heavy cream, half-and-half, or broth
1 tsp coarse grain or country mustard
1/2 cup freshly shredded melting cheese such as Gruyère, Swiss, or Gouda
Salt & pepper
Preheat oven to 375°F. Melt butter in a large oven-proof frying pan or stove-proof baking dish over medium heat. Add pancetta, bacon, or sausage, if using, and cook, stirring occasionally, until meat is cooked through and browned.
Meanwhile, remove and discard first layer or two of cabbage leaves. Cut cabbage in half lengthwise, remove and discard core, and chop.
Add cabbage to pan and cook, stirring occasionally, until leaves are wilted, about 5 minutes.
Meanwhile, peel and chop potatoes into small bite-size pieces. Add to pan.
Combine cream or broth and mustard.  Season with salt and pepper. Add to pan and stir to combine. Sprinkle mixture with cheese, cover, and bake 15 minutes.
Uncover and cook until bubbling and browned, about 10 more minutes.
---
Napa Cabbage Salad
Try adding shredded carrots and/or thinly sliced snap peas for an added crunch.
1/2 cup slivered almonds
3 tbsp vegetable oil
2 tbsp rice vinegar
1 tbsp soy sauce
1/2 tsp sugar
1 pound napa cabbage, chopped
2 scallions, thinly sliced
1/4 cup chopped cilantro
Freshly ground pepper
Preheat the oven to 350°. In a pie plate, bake the almonds for 5 minutes. Let cool.
In a bowl, mix the oil, vinegar, soy sauce and sugar. Add the cabbage, scallions and cilantro and toss. Add the almonds and season with pepper. Toss again and serve.
---
Simmered Cabbage and Apples
1 head cabbage (2lbs)
4 slices bacon or 3 tbsp butter
3-4 tbsp finely chopped onion
2 apples, cut into thin slices
1/8 tsp caraway seeds
Salt
¼ cup vinegar or ½ cup red wine or mix of 2 tbsp honey + 2 tbsp vinegar
Cut cabbage into sections. Remove the hard core, shred the cabbage and soak in cold water.
If using, cook bacon until some fat is rendered out. Otherwise, melt butter and sauté onions until golden.
Lift cabbage from the water, leaving it moist. Place in a heat-proof glass or enameled iron casserole, cover it and let it simmer for 10 minutes.
Add apples, caraway seeds, and vinegar to the cabbage. Add the sautéed onion and stir.  Cover the pan and simmer the cabbage very slowly for 1 hour and 20 minutes.  Add boiling water during cooking if necessary.  If the water has not been absorbed when the cabbage is done, uncover the pot and cook it gently until it is absorbed.