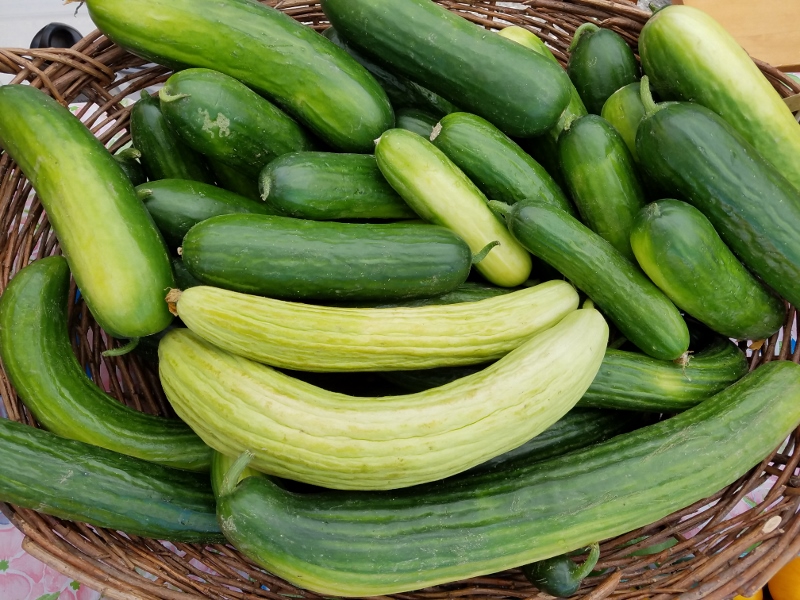 Easy Refrigerator Pickles
13 Delicious Cucumber Recipes (Real Simple)
Cool and Refreshing Cucumber Recipes (NYT Cooking)
Cool Cucumber Recipes (Bon Appetit)
Scroll down for these recipes:
Cucumber Salad
Cucumber Potato Salad
---
Cucumber Salad
1-2 cucumbers, thinly sliced (about 1 ½ pounds)
2-3 tsp granulated sugar
¼ cup cider vinegar or distilled white vinegar
2 tsp Dijon-style mustard (optional)
1 med red onion, thinly sliced (optional)
2 tsp chopped dill
Toss cucumber slices with 2 tsp salt in a colander. Drain for 20 minutes.  Rinse cucumbers and squeeze out excess water.
In a large bowl, whisk together 2 tsp sugar, vinegar, dill and mustard. Toss together with cucumbers and red onion.
Refrigerate for at least 1 hour and up to 1 day before serving.
---
Cucumber Potato Salad
1 1/2 lbs potatoes
1/2 cup plain low-fat Greek yogurt or sour cream
1-2 tbsp roughly chopped fresh dill, to taste
2 tbsp red wine vinegar
1 cup slivered onion, rinsed and patted dry
1 English cucumber, very thinly sliced
Salt & pepper
Steam or boil whole potatoes and cook until tender, 15 to 20 minutes. Cool in ice water, then pat dry.
Whisk together yogurt, mayonnaise, dill and vinegar in a small bowl. Season with salt and pepper
Quarter potatoes and put in a large bowl. Add onion, cucumber, and half the dressing; gently stir to coat. Add more dressing to taste, or save to use as a dip.
Make ahead: Up to 2 days through step 2. Chill potatoes and dressing separately and slice cucumber just before serving.