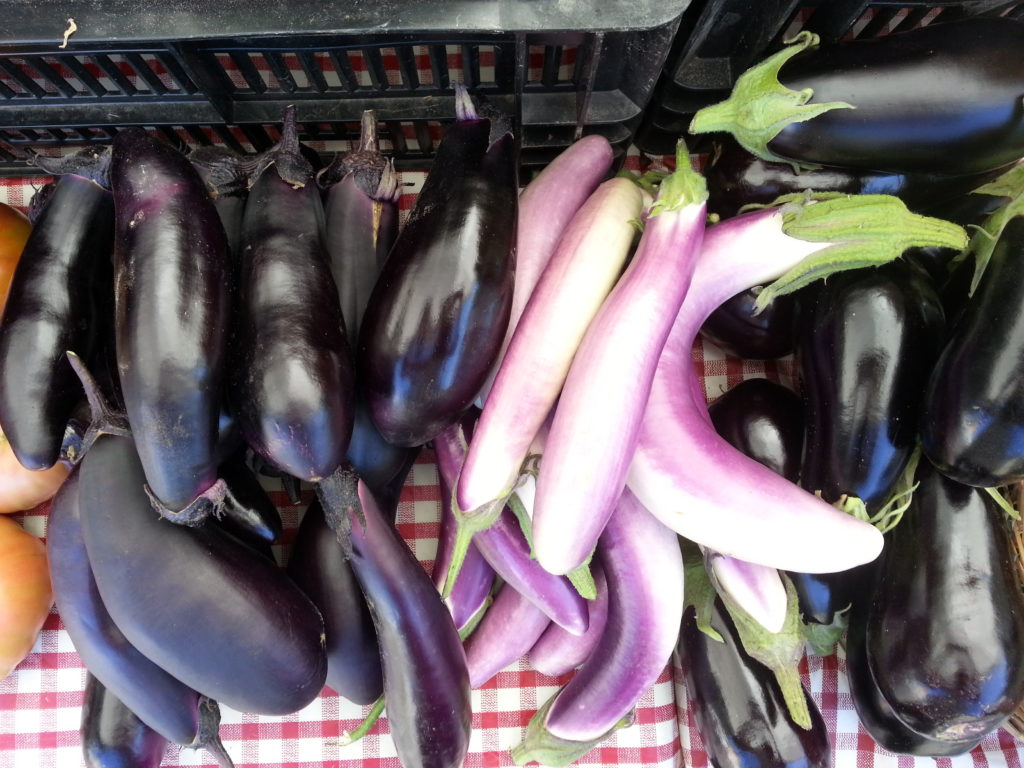 Eggplant recipes, Food Network
Beyond Baba Ghanoush – Bon Appetit
Eggplant recipes and tips – Epicurious.com
Eggplant rounds
Eggplant croquettes
Tortellini with eggplant and peppers
Eggplant Rounds: Griddled, Grilled or Broiled
Eggplant is an excellent platform for a variety of flavors and toppings.
Slice eggplant into ½ inch rounds. Salt the eggplant slices and let them stand for 30 minutes, then blot dry with paper towels.  Skip this step if using fresh-picked eggplants.
Brush each side with olive oil.

On the stove or grill: Heat a cast ridged iron pan or grill on medium-high heat. When hot, turn heat down to medium.  Cook for 6 min then rotate the slices 45 degrees and cook for another 5-6 min. Turn over slices and cook second side in the same way.
In the oven: turn on broiler. Broil about 5 inches from the heat until golden.  Turn, and cook second side until golden.
Some ideas for toppings:
Feta cheese and olives
Pesto, tomato, fresh mozzarella, and a drizzle of balsamic vinegar
Hummus, arugula, and tzatziki
Sundried tomatoes and roasted garlic
Roasted red peppers and chèvre
Carmelized or grilled onions
Ricotta cheese, basil, and tomato sauce
---
Eggplant Croquettes
Patties can be frozen before frying and cooked later.
1 eggplant, peeled and cubed
1/2 cup shredded Parmesan or sharp cheddar cheese, or ricotta
1/2 cup  bread crumbs
2 tsp Italian herbs (oregano, basil, and/or marjoram)
1 egg, beaten
1 tbsp dried or fresh parsley
1 tbsp chopped onion
1 clove garlic, minced
Vegetable oil for frying
Salt & pepper
Place eggplant in a microwave-safe bowl. Cover and microwave on medium-high 3 minutes. Turn eggplant over and microwave another 2 minutes. The eggplant should be tender; cook another 2 minutes if needed. Drain excess liquid and mash.
Combine cheese, bread crumbs, eggs, parsley, onion, and garlic with the mashed eggplant. Season with salt and pepper.  Mix well.
Shape the eggplant mixture into patties. Heat a few tablespoons of oil in a large skillet. Drop eggplant patties one at a time into skillet. Fry each side of the patties until golden brown, approximately 5 minutes on each side. Serve with marinara sauce, plain yogurt or sour cream.
---
Tortellini with Eggplant and Peppers
2 tbsp olive oil
1 onion or leek, sliced|
1 medium eggplant, cut into 1/2-inch pieces
2 bell peppers, cut into 1/2-inch pieces
4 cloves garlic, finely chopped
1/4 tsp crushed red pepper
3 cups low-sodium vegetable broth
1 pound cheese tortellini (fresh or frozen)
1/2 cup fresh flat-leaf parsley, chopped
Salt and black pepper
1/2 cup grated Parmesan (2 ounces)
Heat the oil in a large skillet over medium-high heat.
Add onion/leek and cook for 2-3 minutes.  Add the eggplant, bell peppers, ½ tsp salt, and ¼ tsp pepper. Cook, stirring occasionally, until the vegetables begin to soften, 6 to 8 minutes.
Add the garlic and crushed red pepper and cook, stirring, for 1 minute.
Add the broth and tortellini. Simmer, covered, stirring occasionally, until the tortellini are cooked through and most of the broth is absorbed, 12 to 15 minutes.
Stir in the parsley and ¼ cup of the parmesan. Spoon into bowls and sprinkle with the remaining ¼ cup of parmesan.
Try this:
Substitute 6 cups chopped kale in place of either eggplant or peppers.