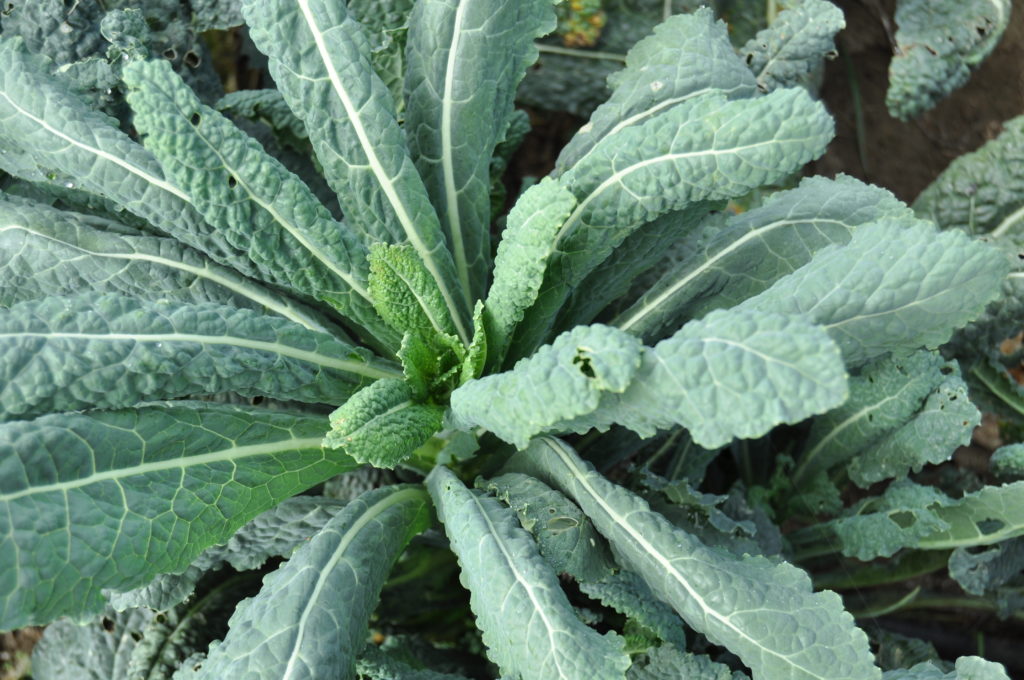 Kale's hardy leaves make it a good candidate for a variety of preparations.  Unlike other leafy greens, it holds up well for a day or two after it's been cooked or tossed in a salad.
Easy ways to use up all that kale:
Make a simple salad with a bunch of thinly sliced kale, red pepper, onion, dried fruit, and your favorite salad dressing
Season it with red pepper flakes and robust olive oils
Pair it with potatoes, beans, rice, or bread crumbs
Make it a topping for pizza
Toss it with some hot pasta, pine nuts, feta cheese and a little olive oil
Sauté it alone or with other greens, minced garlic, and a splash of vinegar or lemon juice
Add it to potato salad or scrambled eggs
Cook it with some sautéed onions and bacon
Top cooked kale with some chopped, fresh tomatoes
10 Simple Kale Recipes (Real Simple)
All the Kale Recipes You'll Ever Need (Bon Appetit)
Kale Recipes (Food Network)
Or try one of these simple recipes, below:
Kale chips
Kale and pepper frittata
Kale and brussels sprout salad
---
Kale Chips
The key to making kale chips is to making sure the leaves are dry.  Even a few drops of water on the leaves will make the chips chewy instead of crispy.  Use a salad spinner or towels to dry the leaves thoroughly.
1 bunch of kale, washed and dried with the leaves separated from the stems
1 tsp Oil (Your choice: olive, vegetable, sesame, peanut, etc.)
Salt & pepper
Preheat oven to 300F.
Tear the kale into big pieces. Put all the pieces in a large bowl.  Discard the stems.
Drizzle the oil over the kale and lightly sprinkle with salt and pepper. Using your hands, toss the kale to ensure all the leaves are coated.
Spread the leaves out in a single layer (no overlaps!) on a baking sheet.
Bake for 20-25 minutes until leaves are crispy.


---

Kale and Pepper Frittata

1 Tbsp oil
1 leek, thinly sliced
2 cups chopped kale
1/2 cup diced sweet or bell pepper
6 large eggs, whisked
1 ounce goat cheese
Salt & pepper

Preheat broiler. In a 10-inch ovenproof skillet, heat oil over medium heat. Add peppers and leek and cook, stirring, until soft, about 3-4 minutes. Add kale and cook until wilted. Season with salt and pepper.
Pour eggs over vegetables and cook over medium-low. As egg mixture sets, run a spatula around the edge of the skillet, lifting egg mixture so the uncooked portion flows underneath. Continue cooking and lifting until egg mixture is almost set but still glossy and moist.
Sprinkle egg mixture with goat cheese. Broil 4 to 5 inches from the heat for 1 to 2 minutes or until eggs are set. Cut into wedges to serve.


---

Kale and Brussels Sprout Salad

The dressing, kale mixture, and toasted almonds can be prepared 8 hours ahead. Cover dressing and kale mixture separately and chill. Cover almonds and let stand at room temperature.

2 tbsp  fresh lemon juice
1 tbsp Dijon mustard
1/2 tbsp minced shallot
1 small garlic clove, finely grated
1 large bunch of kale, center stem discarded, leaves thinly sliced
6 ounces brussels sprouts, trimmed, finely grated or shredded with a knife
1/4 cup extra-virgin olive oil, divided
3 tbsp almonds with skins, coarsely chopped
1/2 cup finely grated Pecorino
Salt & pepper

Combine lemon juice, Dijon mustard, shallot, garlic, and a pinch of salt and pepper in a small bowl. Stir to blend; set aside to let flavors meld. Mix thinly sliced kale and shredded brussels sprouts in a large bowl.
Measure 1/4 cup oil into a cup. Spoon 1 tablespoon oil from cup into a small skillet; heat oil over medium-high heat. Add almonds to skillet and stir frequently until golden brown in spots, about 2 minutes. Transfer nuts to a paper towel–lined plate. Sprinkle almonds lightly with salt.
Slowly whisk remaining olive oil in cup into lemon-juice mixture. Season dressing to taste with salt and pepper.
Add dressing and cheese to kale mixture; toss to coat. Season lightly with salt and pepper. Garnish with almonds.