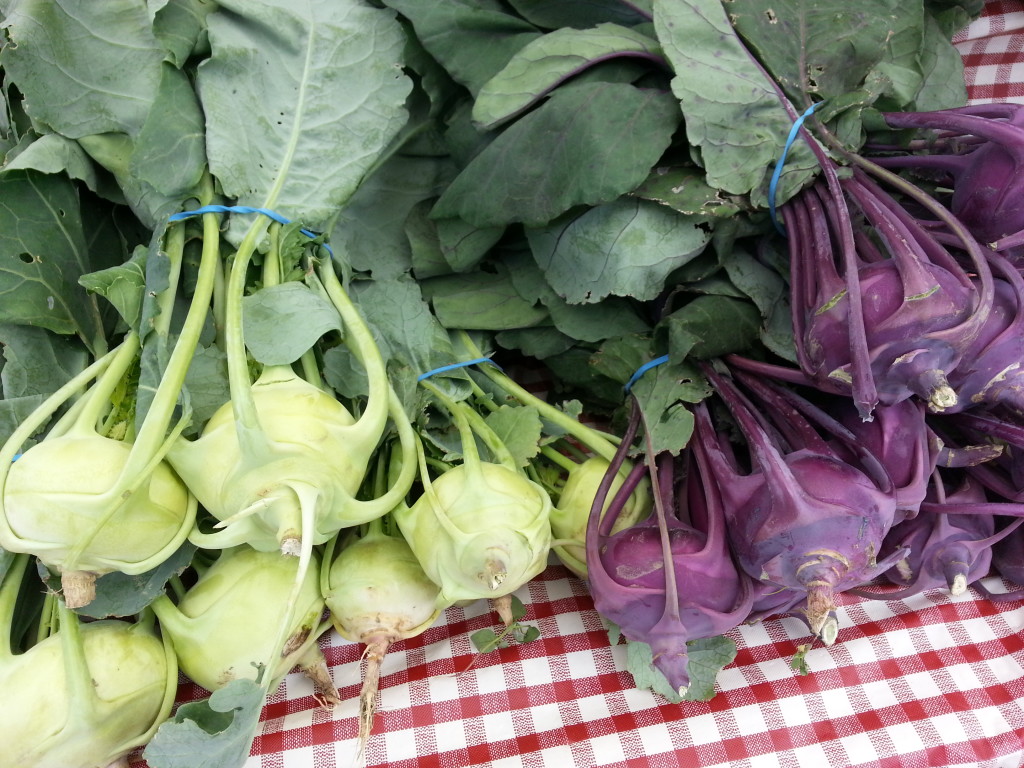 What is this alien life form?  It's kohlrabi!  Don't be intimidated by its appearance.  It's versatile and delicious.
Scroll down for some of our favorite recipes:
Kohlrabi-Carrot soup
Pickled Kohlrabi
Kohlrabi Slaw
Kohlrabi Carrot Soup
3 cups kohlrabi, peeled and diced
2 cups carrots, diced
1 leek, white and light green parts sliced thin
1 1/2 cups potato, diced
Oil (olive or vegetable)
4 cups of broth (chicken or vegetable)
1 cup milk or heavy cream (optional)
Salt & pepper
Peel and dice the kohlrabi, carrots, and potato. Slice leek in half lengthwise, rinse to remove all the dirt, and slice the white and light green parts thinly.
Heat oil over medium-high heat. Add all the vegetables and cook 5-7 minutes.
Add broth and simmer until the vegetables are soft (about 30 minutes). For a smooth texture, purée in an electric blender. Add milk/heavy cream, if using, or add a little hot water to thin the soup if necessary.  Season with salt and pepper to taste.
Try these additions:
2 tsp grated, fresh ginger
Use one cup of white wine in place of one cup of broth
Top with grated parmesan cheese
Fresh herbs such as parsley, chives, or cilantro
Pickled Kohlrabi
Kohlrabi
1 cup vinegar (white, rice, or apple cider)
1 cup water
3 cloves of garlic, smashed
4-5 chili peppers
Pinch of salt
1-2 heaping tbsp sugar
Peel the kolhrabi, cut in half and then cut into thin half moon disks. Put in a bowl and cover about 3/4 of the bowl with vinegar, then with water to the top of the kohlrabi. Add garlic, chilies, a pinch of salt and sugar.
Stir to combine ingredients.  Cover and let sit for up to three days.  Will keep in the fridge for up to three weeks in a sealed container.
Kohlrabi Slaw
3 medium kohlrabi, peeled and grated
1/3 purple cabbage, shredded
2 carrots, grated
1/2 red onion, grated
1/4 cup golden raisins
1 tbsp sugar
1 tsp salt
1 tbsp cider vinegar
4 tbsp chopped cilantro
1/4 cup mayonnaise or sour cream (or more, if you prefer)
Combine all ingredients in a bowl and mix well.
Chill for several hours before serving.