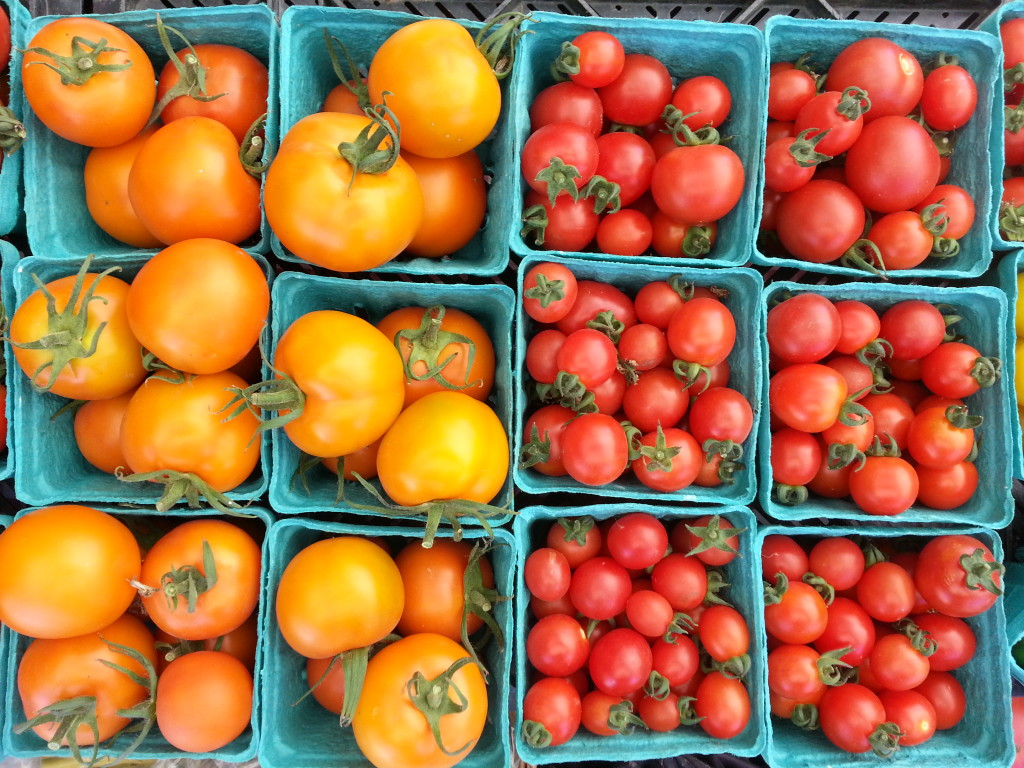 40 Fresh Tomato Recipes (Midwest Living)
21 Tasty Tomato Recipes (Country Living)
Tomato Recipes (Cooking Light)
Super-Quick Ways to Eat Tomatoes (Delish.com)
Scroll down for these recipes:
Tomato and Fennel Salad
Oven Roasted Tomatoes
Tomato and Egg Skillet
---
Tomato and Fennel Salad
1 tbsp extra-virgin olive oil
1 tbsp champagne vinegar, or white-wine vinegar
1/2 tsp salt
Freshly ground pepper, to taste
1 pound tomatoes, cut into wedges
2 cups thinly sliced fennel bulb
1/4 cup chopped fresh parsley
1/3 cup toasted pine nuts
Toast pine nuts in a small dry skillet over medium-low heat, stirring constantly, until fragrant and lightly browned, 3 to 5 minutes.
Whisk oil, vinegar, salt and pepper in a large bowl until combined. Add tomatoes, fennel, parsley and pine nuts; toss to coat.
---
Oven Roasted Tomatoes
If you won't be eating them right away, cool and the cover both the tomatoes and peeled garlic with some extra olive oil and keep them in the fridge for a few weeks.
Tomatoes, cut in half
Whole gloves of garlic, unpeeled (optional)
Olive oil
Herbs such as thyme or rosemary (optional)
Preheat oven to 300°F. Halve tomatoes and arrange on a parchment-lined baking sheet, cut side up, along with the unpeeled cloves of garlic.
Drizzle with olive oil, just enough to make the tomatoes glisten. Sprinkle herbs on, if using. Season lightly with salt and pepper.
Bake the tomatoes in the oven for about three hours. The tomatoes should be shriveled and dry, but with a little juice left inside–this could take more or less time depending on the size of the tomatoes.
Peel roasted garlic and use it right away or store in olive oil with the tomatoes.
---
Tomato and Egg Skillet
2 tsp unsalted butter
3 large eggs
1/2 cup mixed heirloom tomatoes, sliced
1/4 cup sliced or finely grated cheese (cheddar, gruyere, or goat)
Coarse salt and freshly ground pepper
Heat broiler. Melt butter in an 8-inch nonstick ovenproof skillet over medium-high heat until foamy. Crack eggs into skillet, and cook until whites are almost set, about 1 1/2 minutes.
Remove from heat. Season eggs with salt and pepper, and top with tomatoes, then cheese. Broil until whites are set and cheese melts and is bubbling, about 1 minute.