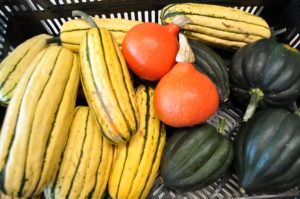 Tips for Cooking Winter Squash
Microwave for 3-4 minutes to soften the squash before cutting.
Roasting in the oven brings out the sweetness but if you're in a hurry, use the microwave to speed things up. Cut it lengthwise, scoop out the seeds and then cut into quarters.  Place the squash and ¼ cup of water in a bowl, covered, and microwave for about 10 minutes.
Use a crock pot and let it cook while you're at work. Pierce the rind of the whole squash several times. Place it in the crock pot with 2 cups of water.  Set your crockpot on high for 4 hours or low for 6 hours.  Let it cool before cutting it in half to remove the seeds.
Recipes
Winter squash recipes (NY Times)
Healthy winter squash recipes (Eating Well)
Seasonal winter squash recipes (Cooking Light)
50 Savory pumpkin recipes (Country Living)
22 Pumpkin recipes (Real Simple)