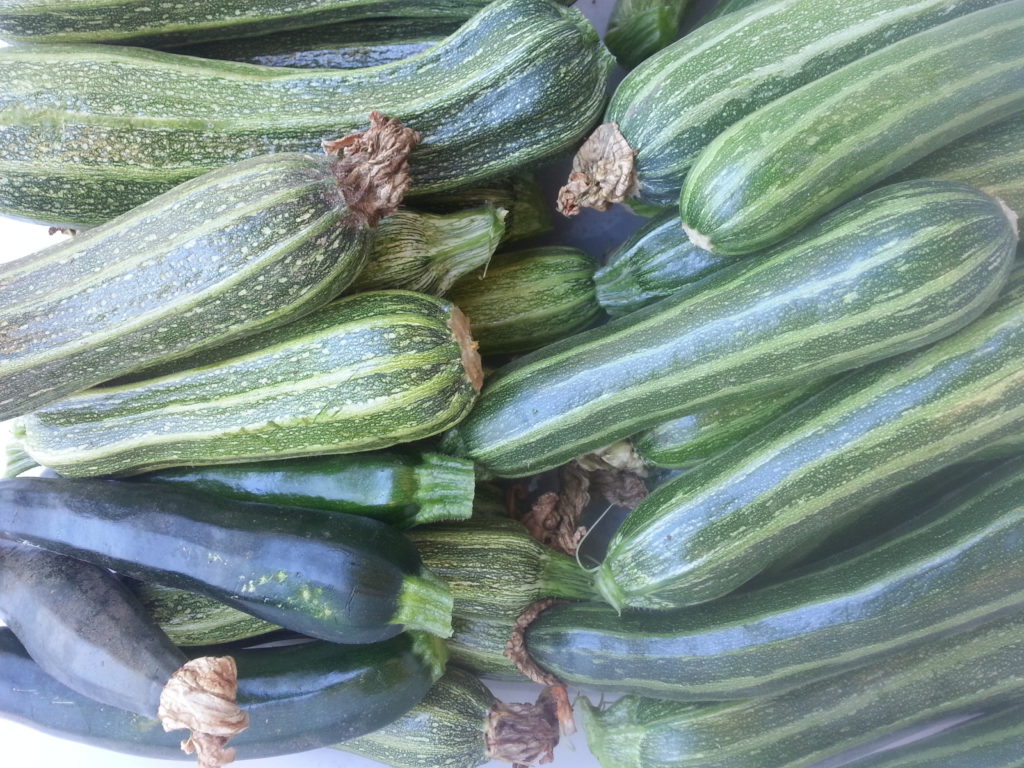 When zucchini season starts, we need to stay on our toes.  These babies can go from tiny to baseball bat size in the blink of an eye.  How many ways are there to eat zucchini?  Lots.
10 Things to do with Zucchini
Salt and Vinegar Zucchini Chips
Vegan Zucchini Brownies
Zucchini Oat Chocolate Chip Cookies
Double Chocolate Zucchini Bread
Smitten Kitchen's Zucchini Recipes
---
Zucchini Potato Pancakes
A variation on a latke, these pancakes can be made with all zucchini or all potato.  If you don't want to fry, use the broiler instead.
2 cups zucchini, grated
1 cup potatoes, peeled and grated
1/2 tablespoon lemon juice
1/2 cup grated Parmesan cheese
Pinch of salt and pepper
2 tbsp flour
1 egg, beaten
Oil for frying
Toss zucchini and potato in the lemon juice to prevent browning. Squeeze out all excess moisture from the zucchini and potatoes with towels or a sieve.
Mix with cheese, salt, pepper, flour, and egg and make sure that the ingredients are well mixed.
Heat a 1/2 inch of oil in a pan until hot and add thin silver dollar-size pancakes, frying over high heat until golden brown and crispy. Drain on paper towels. – OR – place under the broiler for 8-10 minutes each side.
Try these additions:
1 cup chopped scallions or grated onion
1-2 cloves minced garlic
¼ cup herbs such as parsley or basil
---
Zucchini Butter
2 pounds zucchini, more or less*
1/4 cup olive oil or butter
2 minced shallots, garlic, or combination of both
Salt and pepper
Coarsely grate the zucchini. Let it drain in a colander for 3 to 4 minutes or until you are ready to begin cooking. To hasten cooking time, squeeze the water out of the zucchini by wringing it in a clean cloth towel.
In a deep skillet, heat the olive oil/butter. Sauté the shallots briefly. Add the zucchini and toss. Cook and stir over medium to medium-high heat until the zucchini reaches a spreadable consistency. If you scorch the bottom, turn the flame down! (And scrape those delicious bits into the marmalade for added flavor.) The zucchini will hold its bright green color and slowly caramelize into a nice vegetable jam.
Enjoy on toast, or as a side dish all summer long!
*Can be stored in the refrigerator for about a month.